Croatia made it to the FIFA 2018 World Cup final after a bunch of wildly entertaining games where they knocked out their opponents. Croatia is going to meet France in the finals. Everyone knows about France. You know champagne, croissants and the Eiffel Tower. What do you know about Croatia?
Where is it?
Croatia is a tiny country in South Eastern Europe. It is part of the Balkan peninsula, named after the Balkan mountains that run through the area. It is close to Italy, and borders Hungary, Slovenia, Bosnia & Herzegovina, Serbia, and Montenegro. It has a population of 4 million. France is 10 times bigger than Croatia and has 15 times more people.
History
Until 1990-91, there was a country known as Yugoslavia. In 1991, Croatia declared independence from Yugoslavia, one of the many events that is commonly known as "Balkanization". This led to a war of independence being fought between Croatia and the Yugoslav Army. The war was fought from 1991-1995 and devastated the country.
So Croatia as a country is only 27 years old. Since the war, Croatians have been hard at work rebuilding their country. They have appeared in the FIFA World Cup five times since 1998.
Many members of the World Cup squad were affected by the war. Luka Modrić, captain of the team, lost his grandfather and spent his childhood fleeing from town to town. Mario Mandžukić, the star forward, grew up as a refugee in Germany.
HRVATSKA!
Croatia is the English name of the country but Croatians call their own country Hravtska. Hravtska and related forms are also used by other Slavic countries. Which brings us to the point - Croatia is a Slav country.
Check out the last names of the players in the pic above - Modrić, Brozović, Rakitić, Strinić, Vida, Vrsaljko - so many of them end in ić! From my rudimentary research, I think the ić should be pronounced as an ich.
Dalmatians
You have surely heard of Disney's 101 Dalmations. Guess where Dalmations are from? Croatia! Dalmatia is one of the historical regions of Croatia. Luka Modric happens to be from there as well.
This map of Croatia with all of its regions will help you understand better.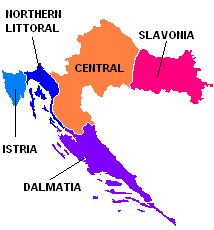 Dalmatia is also the region where many of the locations in Game of Thrones are shot. Dubrovnik is depicted as Kings Landing.
Monuments
Croatia is full of Communist era monuments that look like something out of an Isaac Asimov novel. This one below is a "Stone Flower".
Music
2 Cellos is based in Croatia as well! They are a duo of two cellists based in Zagreb, the capital of Croatia. One of them is Croatian and the other is Slovenian. They make covers of popular songs.
Here is their cover of Despacito!
Here is a video they shot in the beautiful Plitvice Lakes
And for the metal fans, here is their cover of Iron Maiden's Trooper!
GO HRVATSKA!
Now you know enough about Croatia to show off to your friends. Cheer for them!
Reading and references
For hard facts on Croatia, refer to the CIA Factbook entry
The map is from a Barnes & Noble product
To understand more about Slavs as a people, read my article on Slavs